I took a quick glance at the 2009
sortbenchmark.org
results, where Hadoop reached the first place.
The benchmark category is called GraySort
Metric: Sort rate (TBs / minute) achieved while sorting a very large amount of data (currently 100 TB minimum).
This is how it looked like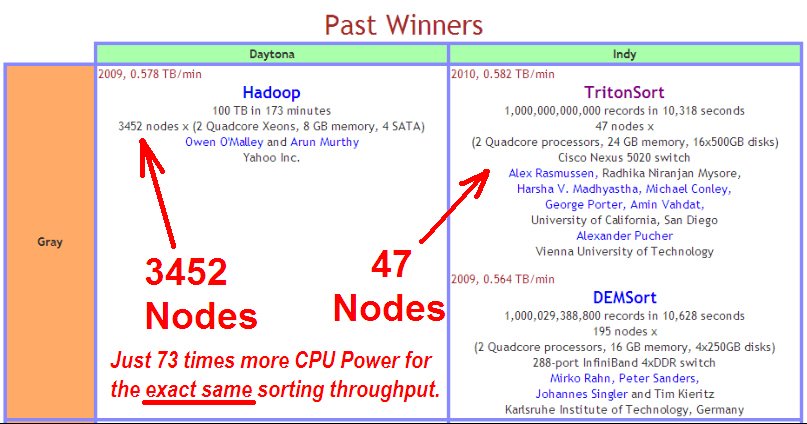 73 times more nodes!?

(the raw cpu power of the nodes are roughly comparable - both Dual Quadcore)
Even though the benchmarks themselves aren't 100% identical (but triton was also sorting 100 terabytes), I think its remarkable..
Sometimes you just have to look at the numbers.
A lot of people like to point out that code efficiency for webapps isn't relevant nowadays, code can be slow, even
glacially
slow given the fact that the webapp mostly waits for the database anyway.
This, quite frankly, is wrong almost all of the time.

Let's take a look at writes (since the reading problem can be solved by some kind of caching strategy - once you have almost everything cached you are measuring Dictionary/Map performance).
I invite you to turn on statement logging on your database and capture the SQL DML that's being emitted by your favourite webapp framework for a specific write use case (including the transaction boundaries). Turn off your logging again for max. performance. Normally your web framework will be capable of handling 5-20 non-cacheable user requests/sec that result in direct write requests to the database (measure with httperf or whatever). Now shut down your webapp, and run that queries directly against your database, using the correct transaction boundary. Then run queries in parallel. Get some solid numbers.
You may discover that the transaction and its queries complete in a few msecs, and you get a lot more requests/s to the DB right away. From a plain DB perspective on a developer machine. Now who's bottlenecking? Certainly not your DB.
If your queries really run slow, the first step is to ensure correct DB design and DB configuration.
Your db design must be sane (2NF/3NF or BCNF)
and indices must have been set correctly. Technical issues like full table locks with MyISAM matter. String operators and functions in general, LIKE queries etc. Yes, of course you will have to be able to optimize or circumvent really "hard" queries.. At the end of the day, with sane database design, you can get really decent performance.. on a totally normal, average box. And the database will prevail. A whole lot more is going to die before that CUSTOMERS table won't exist any more.
Of course, Disc IO is the upper limit for DB IO (if the db really fsyncs on every transaction), but even with std 7200RPM Discs on developer machines you can get fast performance with correct db design.
But don't tell me your webapp is only capable of handling just a few req/s per second for your average webapp because of your database.
It's highly probable that
everything else
is preventing you from achieving higher throughput...
...Your ORM that thinks its an object runtime
...Your favourite programming language
...Your beloved ultimate framework,
...Your own application code
...Missing caching strategy
...And a whole lot more
PS
I am not talking about ultra-high-traffic sites here, like facebook. I am talking about normal webapps with moderate traffic.. It makes me wonder why everybody tries to solve the problems facebook has to solve (millions of users and gazillions of internet traffic) ...
PPS
If in doubt,
measure.
As found on the OpenMPI FAQ Page :
OpenMPI Faq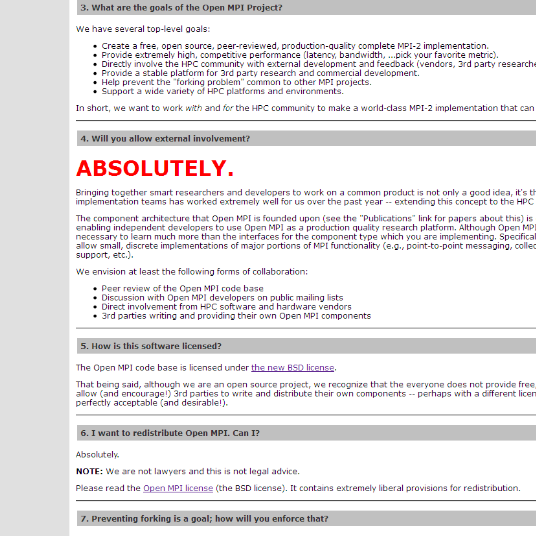 Cheers
Hi Folks,
I wanted to do some mindmapping on Windows and liked
vym
. No official Windows port available. The one I found wasn't able to save my file to the Desktop (I didn't read the known issues - no spaces in path allowed), so I had to use Freemind which is just the typical huge, clunky java "App". I bit the bullet and created 2 diagrams (needed for my parallel programming course at fernuni hagen), anyway after studying I went to work, came back home in the evening and just downloaded the sources and built a version with the current Qt SDK. Some minor problems with a QDBus dependency, fixing stuff while compiling. 10 Minutes.
Then I converted my 2 diagrams and erased Freemind from my HD.

Problem. Solved.
A page with further info and a download can be found here (including GPL sourcecode):
Vym (View your mind) for Windows
Have fun!
« previous page
   (Page 1 of 1, totaling 4 entries)   
next page »